William L Freeland
Born: July 29, 1841 In New York, NY
Died: September 13, 1864 In Harpers Ferry, VA

Sex: Male Eyes: Blue Height: 5'5 3/4"
William L. Freeland was born on July 29, 1841 in New York City to parents Nathan and Maria Franklin Freeland. Prior to enlisting, he was a farmer and single. His brother John had enlisted in 1862 for two-years and when he reenlisted, William was also inspired. William enlisted on February 15, 1864 in Tarrytown, New York in Company C of the 5th Regiment New York Artillery, for a three-year period. He mustered in as a Private on the same day. He received a $300 enlistment bonus. Initially stationed at Rikers Island, New York, he spent July and August of 1864 in the post hospital.
On September 13, 1864, he died of typhoid fever in the regimental hospital in Harpers Ferry, Virginia "while on arduous duty". His few possessions (one greenback dollar, a Testament and a pocket book) were given to his brother, John, who was also serving in Company C. His body was shipped home and his widowed mother Maria buried him next to his father in St Stephen's cemetery on November 2, 1864. Maria received a mother's pension on October 24, 1864 until her death in 1892.
Private Freeland's original tombstone had been purchased by his mother with a pair of crossed cannons engraved. At some point, the gravestone fell over face down, was smashed and illigible. On Veterans Day 2016, a new gravestone was dedicated.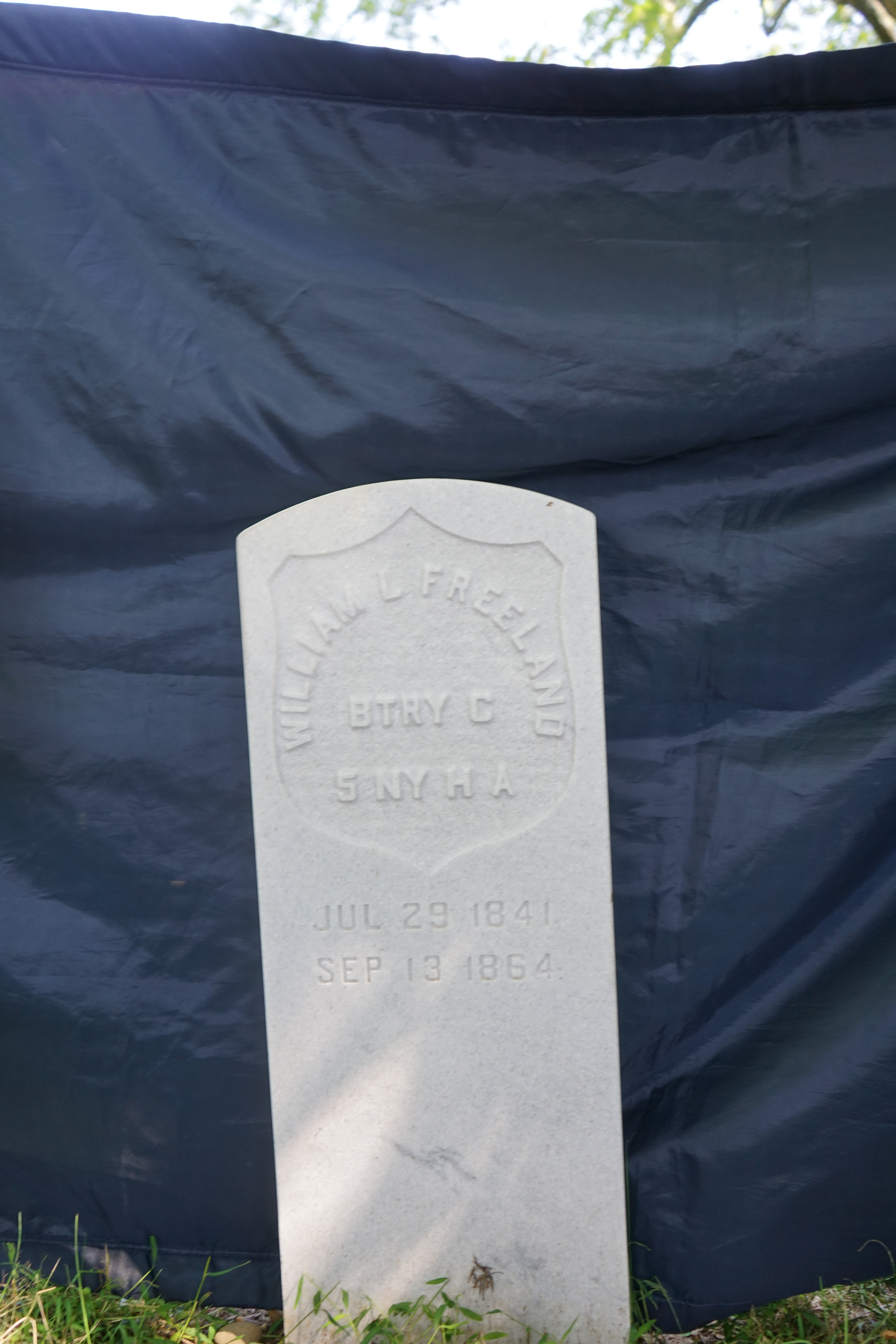 WPA Location #8604. He is on page 11 on North Castle Town Clerk's roster and NARA M551/roll 49 National Archives. New York State Division of Military and Naval Affairs, Unit History Project, 5th Artillery, page #218.