Richard Boyce
Born: December 23, 1839 In England
Died: 1898

Sex: Male
Richard Boice (a/k/a "Boyce") was born on December 23, 1839 in England to parents Francis and Jane Wright Boice/Boyce. Prior to enlisting, he was an apprentise shoemaker working for Henry Strang's shoe manufacturing shop in Mile Square/Armonk and single. He enlisted on August 25, 1861 in Portchester, New York in Company C of the 49th New York Infantry Regiment, for a three-year period. He mustered in as a Private on September 29, 1861 with his friends, Henry Lovelett and George and William Strang.
Initally stationed in Alexandria, Virginia, Private Boyce participated at the Siege of Yorktown in April 1862 and in the battle of Williamsburg in May 1862. Next came the Seven Days battles around Richmond in June 1862, then Antietam in September 1862 and Fredricksburg in December 1862. He also supposedly fought in the battles at Chancellorsville, Gettysburg, The Wilderness, Cold Harbor, Spotsylvania Court House, Bull Run "and others" in his own words to the North Castle Town Clerk. His WPA file card states that he also fought at Suffolk, Smith Hills and Smithfield, Virginia. He served his three years unscathed. He was mustered out with his Company on October 18, 1864 in Buffalo, New York. (The WPA file says he was mustered out on April 26, 1865.)
He lived in Armonk, New York and was still a shoemaker as per the 1870 census. He received an invalid's pension on September 26, 1877. Private Boyce's date of passing is unknown but his wife, Rebecca, received her widow's pension on September 7, 1898 so it was probably in/around 1898 (estimated).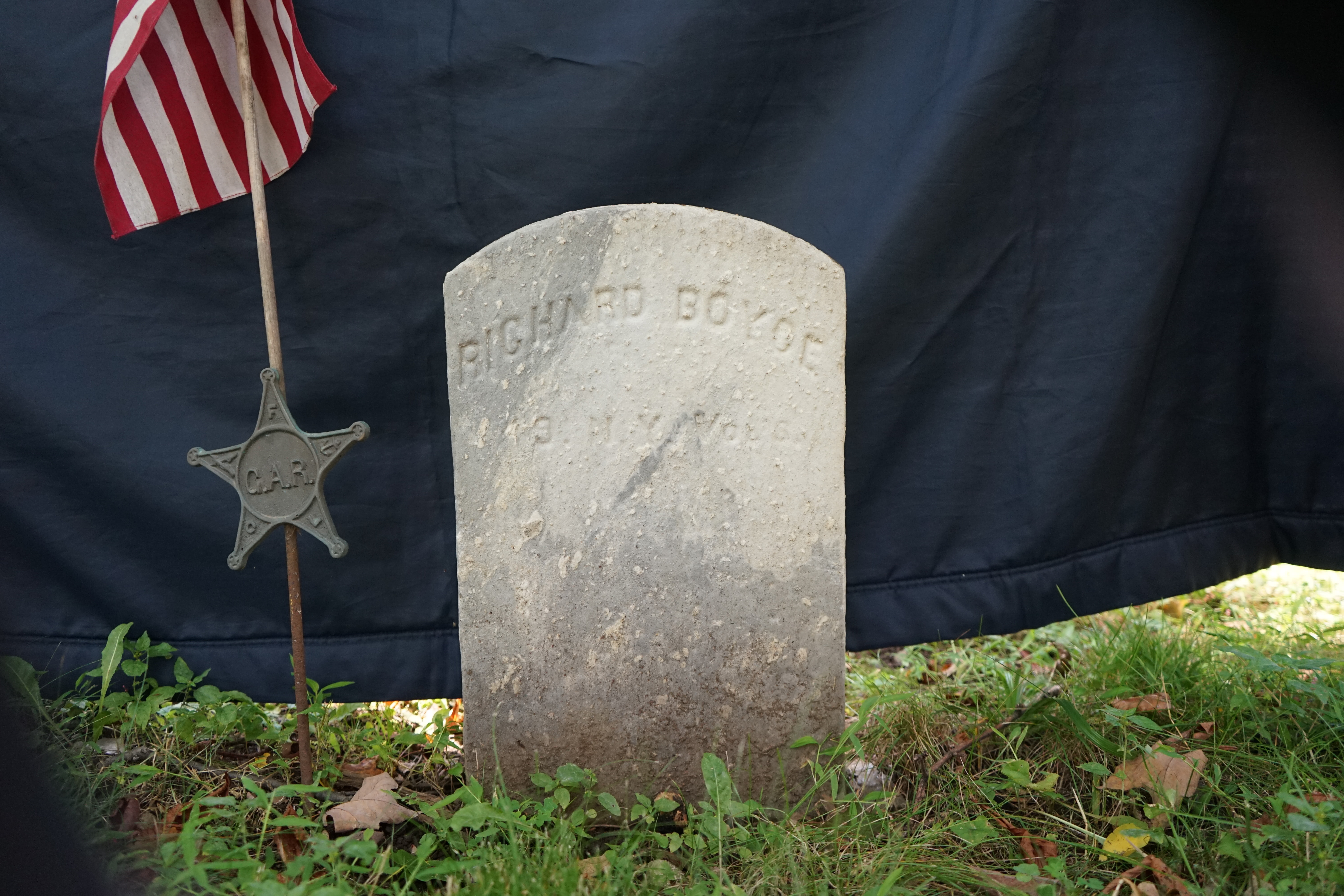 He has a government stone that reads BOYCE, and is 8607 in WPA location. He is buried, probably as he would have wished, near the Loveletts and Strangs. He is on page 5 of the North Castle Town Clerk's roster and is NARA 551/roll12, National Archives. New York State Division of Military and Naval Affairs, Unit History Project, 49th Infantry, page #17.