Frank Pierson
Born: 1839-40
Died: 1936

Sex: Male Eyes: Blue Height: 5' 7.5"
Frank Pierson (a/k/a "Pearsons", "Person" and "Parson") was born in either 1839 or 1840 (date and place unknown). Frank was a seaman as a profession. He enlisted on September 13, 1862 in New York City in Company B of the 2nd New York Artillery Regiment, for a three-year period. He mustered in as a Private the same day.
He was first stationed in Fort Woodbury in Woodbury Heights, Arlington, Virginia, guarding the Aqueduct Bridge as part of the defense of Washington, D.C. He then, according to his WPA card, supposedly served in General John Pope's campaigns in Cold Harbor and Petersburg, Virginia. But this seems unlikely as he transferred to the U.S. Navy on April 5, 1864, before these two battles occurred, after an appeal that encouraged sailors to transfer.
He reported for duty that day on the USS Allegheny in Baltimore Harbor, Maryland. On April 11, 1864 he became a "landsman" on the USS Vermont, a "receiving ship" at the Brooklyn Navy Yard and finally as a "seaman" on the USS Princeton in the Philadelphia Navy Yard. He was honorably discharged on August 23, 1865. He had a tattoo on his right arm of a coat of arms and five stars.
He died in 1936.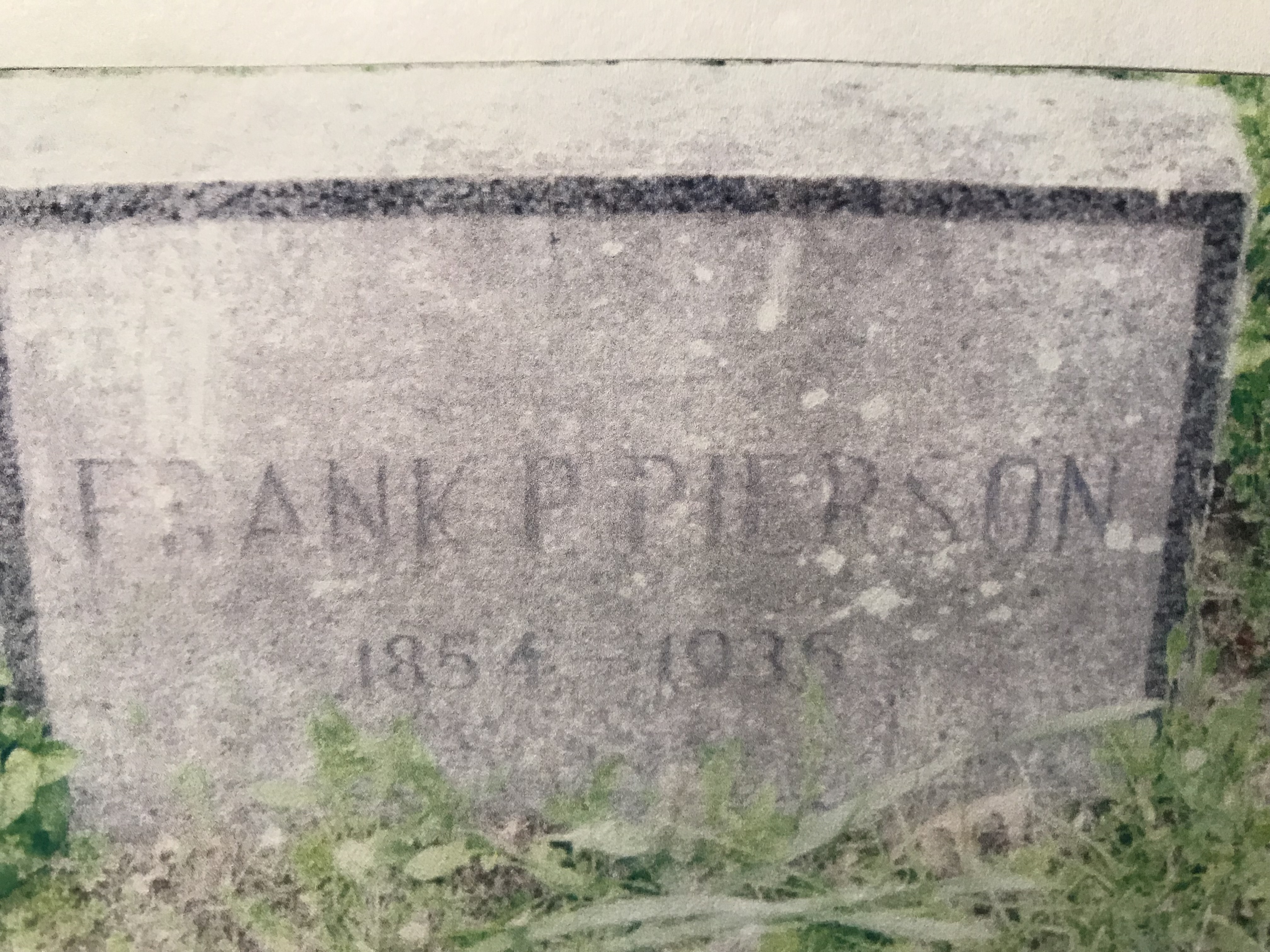 His gravestone erroneously states he was born in 1854, which would have made him only eight years old when he enlisted in 1862. Other references have him born in 1839 or 1840. He is sometimes listed as a veteran of the Spanish-American War, but appears on Richard Lander's list of Civil War veterans. The WPA inventory of 1939 reveals he did not have a gravestone, but did have a Grand Army of the Republic marker (now missing). He is M551/roll 109 in NARA, National Archives. New York State Division of Military and Naval Affairs, Unit History Project, 2nd Artillery, page #426 (as "Pearsons"). Not in 1860 census or the 1890 Veterans census or the North Castle Town Clerks roster.
Pierson's navy data is from US Naval Enlistment Rendezvous (as Frank Pearson), GS film #2381764, Digital Folder #004639550, Image #00637, volume #32, page #230.