David B Brundage
Born: August 13, 1838 In North Castle, NY
Died: February 25, 1913 In Mt. Vernon, NY

Sex: Male Eyes: Hazel
David B. Brundage was born in North Castle, New York on August 13, 1838 to parents Alpheus and Mary Lewis Brundage. He enlisted in North Castle on September 1, 1862 in Company "I" of the 1st Mounted Rifles Regiment, for a three-year period. He mustered in as a Private on the same day.
Private Brundage supposedly participated at the Battle of Suffolk, Virginia (April/May 1863) and Smith Mills, VA (dates unknown). IN 1863, he was absent from camp in Portsmouth, VA; it is noted that his name actually appeared and he was actually present and falsely accused of being AWOL. In 1863 through January 1864, Private Brundage was assigned light duty and permanently detailed to drive cart. In November 1864, he became sick in quarters. He was discharged for disability on March 26, 1865 by order of Major General Edward Otho Cresap Ord.
He married Sarah Elizabeth Reynolds on August 24, 1865 in Sing Sing, NY. As of the 1880 U.S. Census, he was living in North Castle, was a shoemaker, with two daughters and two sons. He received an invalid's pension on July 7, 1890 and his wife received her widow's pension on March 25, 1913. He died on February 25, 1913 in Mt. Vernon, NY.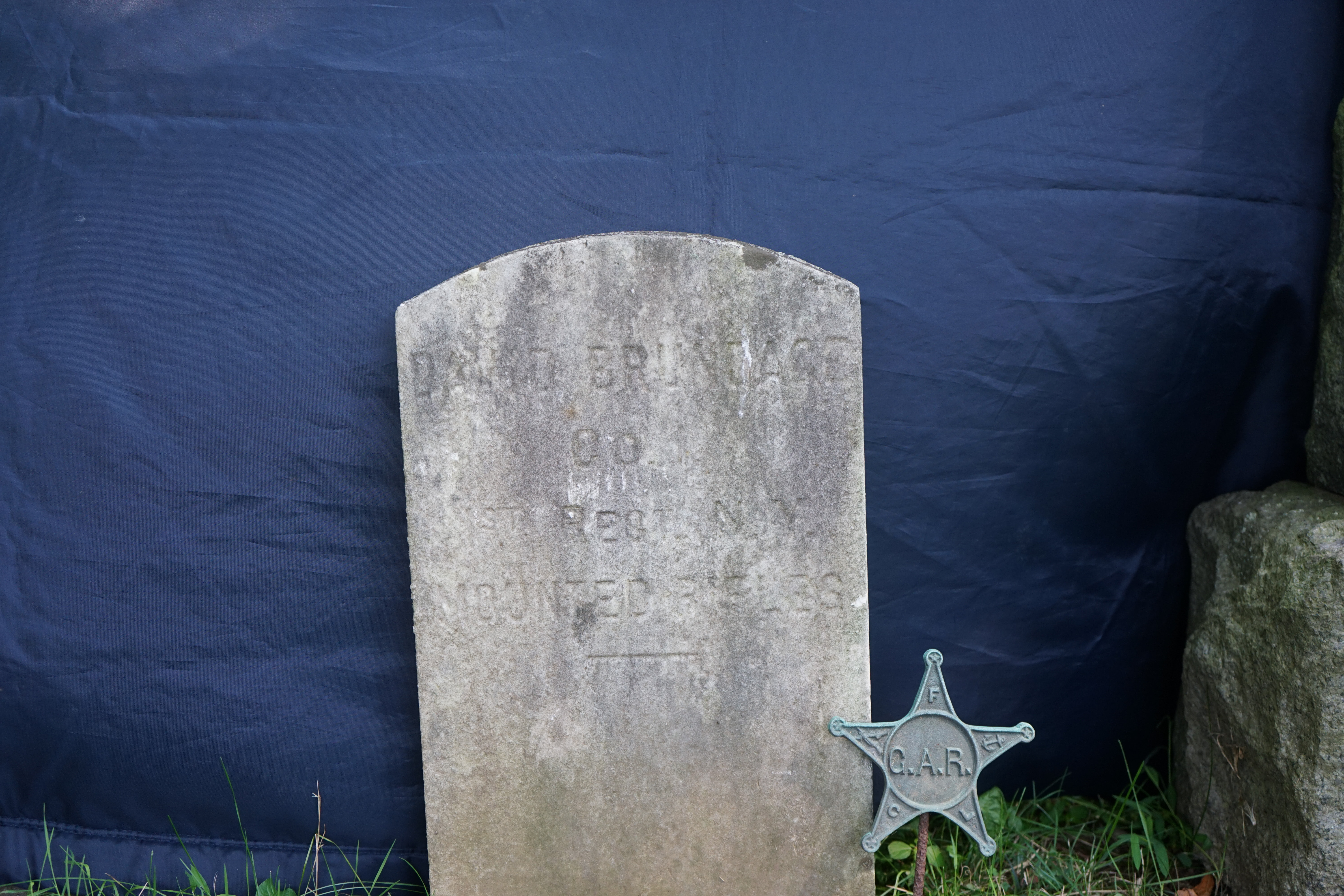 He has a government stone and Grand Army of the Republic marker that is 8614 in WPA location. He is on page 8 of the North Castle Town Clerk's roster and is on 551/roll 17 NARA, National Archives and was in the 1890 Veterans' census. New York State Division of Military and Naval Affairs, Unit History Project, 1st Mounted Rifles Regiment, page # 43.
His brother, George, also served in 1st Mounted Rifles Regiment and is buried in the Methodist cemetery.