Albert H Ransom
Born: March 22, 1843 In New York, NY
Died: May 13, 1906

Sex: Male
Albert H Ransom was born in New York City on March 22, 1843 to parents Ira and Rachel Moore Ransom. Prior to enlisting, he was single and a clerk. He enlisted in Kingston, New York on August 3, 1862 in Company B of the 120th New York Infantry Regiment, for a three-year period. He received a $50 enlistment bonus from the Town of North Castle, New York. He mustered in as a Private on August 22, 1862.
He has promoted to Corporal (date unknown) but was reduced in rank to Private in November 1863. He was taken prisoner by the Confederates in action at the Battle of The Wilderness, Virginia on May 5, 1864 and spent seven months in the infamous Andersonville prisoners' stockade. (About 13,700 Union prisoners were starved to death in Andersonville in three-months time.) He was exchanged in Savannah, Georgia on November 14, 1864 and was reported as sick at the parole camp on December 31, 1864. He received a disability discharge on June 7, 1865 and was mustered out from the army hospital in Philadelphia, Pennsylvania.
Ransom never had a pension as family members had incorrectly identified his regiment as the 122nd Infantry. He died on May 13, 1906.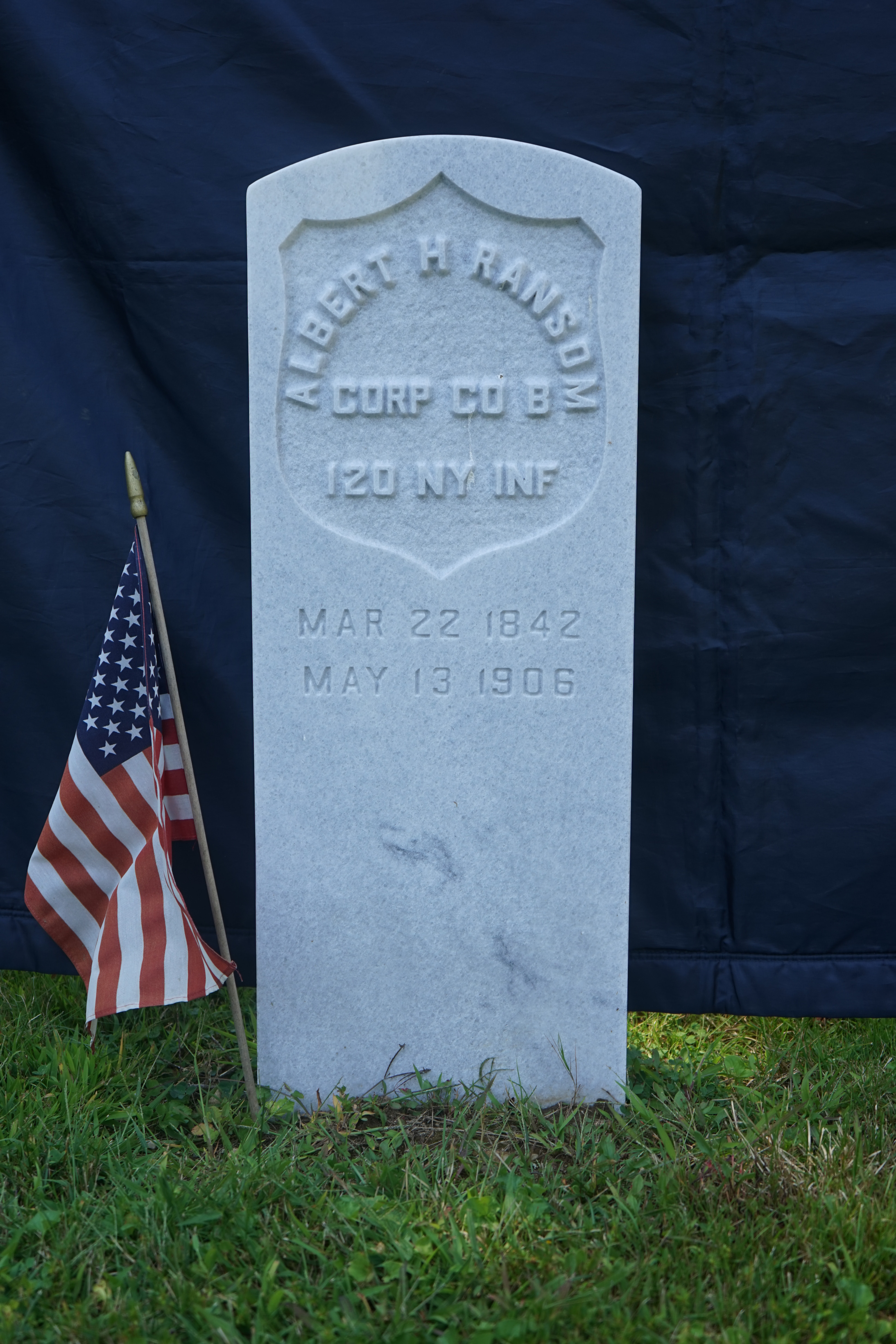 Private Ransom is not in the 1890 Veterans' census but he was found as a widower in the U.S. census of 1900, living on West 127 St. in Manhattan and again in the 1909 New York State census, living at 2379 8th Avenue, Manhattan. He is on page 6 of the North Castle Town Clerk's roster, also on the Kingston clerk's roster, is M 55flroll 115 NARA, National Archives. New York State Division of Military and Naval Affairs, Unit History Project, 120th Infantry, page #135. The W.P.A. did not list him as located in St. Stephen's in the late 1930s. Richard Lander, North Castle Town Historian, thought he was buried in St. Stephen's in January 1906, but could not locate his grave in the 1940s. In Veterans Day 2016, a new tombstone to Private Ransom was dedicated.