Walter Raymond Bell, Jr.
Born: October 30, 1920 In Portchester, NY
Died: May 23, 2011 In Greenwich, CT

Sex: Male
Walter Raymond Bell, Jr. was born on October 30, 1920 in Portchester, NY to parents Walter Raymond, Sr. and Mildred Lape Bell. As per the 1930 U.S. Census, the family lived in North Castle, NY. As per the 1940 U.S. Census, he was a student at a dentistry technical school. On December 2, 1940, he joined the New York Naval Militia, assigned to the 32nd fleet division stationed in both the Philadelphia and Brooklyn Navy Yards. Three months after the bombing of Pearl Harbor, he proudly joined the U.S. Marines on March 26, 1941 and served with B-1-2 from Septmber 1942 until July 1944, during which he participated in the Guadalcanal, Tarawa, Saipan and Tinian campaigns. As a machine gunner, he was wounded on Tarawa on November 22, 1943 and again on Saipan on July 8, 1944, for which two purple hearts were awarded.
He married Thelma Lee Daffer in December 1944. They had a daughter. In the 1950s he began a 30-year vocation at the Readers Digest; he retired in 1982. Upon his retirement, he found he had a talent for writing poetry (where he began to use the name Walter) and wrote over 50 poems reflecting his love of country, his battles in WWII, his love of nature and animals and his love of God. Ray was a Life Member of North Castle American Legion Post #1097 and numerous Marine Corps Associations. He was also a member of St. Patrick's Church in Armonk, the North Castle Historical Society, Adirondack Campers and the Mianus River Gorge Society. He died on May 23. 2011 in Greenwich.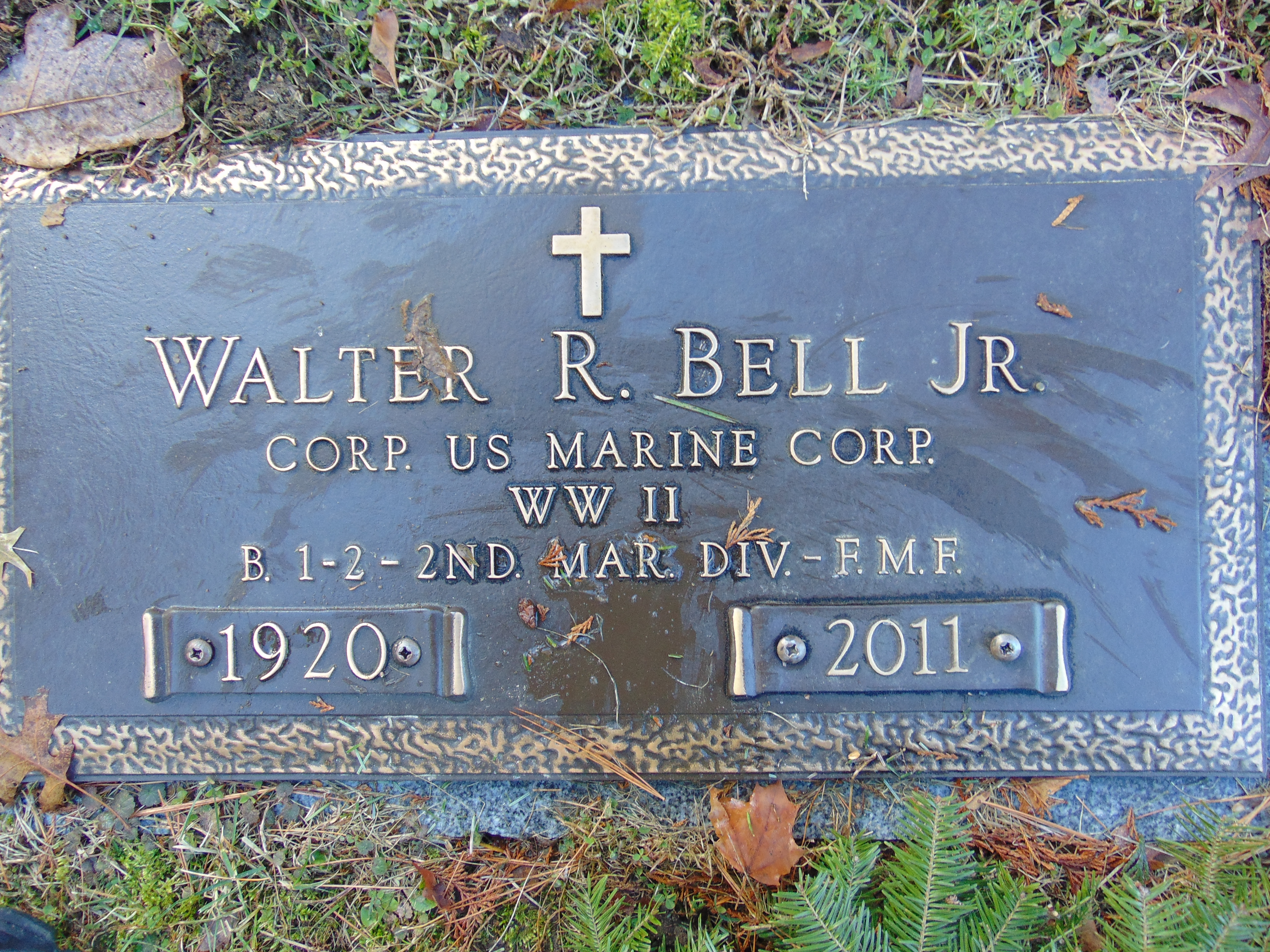 New York, New York National Guard Service Cards, 1917-1954, page #2958. Connecticut Death Index, 1949-2012. U.S. Social Security Death Index, 1935-2014. https://obittree.com/obituary/us/new-york/pleasantville/beecher-flooks-funeral-home-inc/walter-bell/1338301.